Ehsan Bayat: An Afghan Hero With the Heart Of A Humanitarian
Born in Kabul and growing up during the difficult era of the Soviet occupation of Afghanistan, entrepreneur and philanthropist Ehsanollah Bayat made a commitment to help rebuild his nation when given the opportunity. And, in the fifteen years since Ehsanollah Bayat established the Bayat Group of companies in Afghanistan, he has generously implemented his vision through the creation of three important entities fundamental to rebuilding Afghanistan through sustainable development, peace, democracy and employment: Ariana Television and Radio Network (ATN); the Bayat Foundation; and the Afghan Wireless Communication Company (AWCC). Each of these initiatives has helped redefine key sectors and make significant differences in the Afghan economy and the everyday lives of Afghan citizens, specifically telecommunications that reconnects Afghanistan with the world; unbiased media that empowers and showcases Afghan arts and culture; and effective charitable outreach dedicated to improving the quality of life for the youth, women, poor, and elderly of Afghanistan.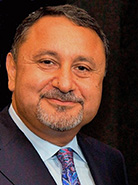 "Our nation's future belongs to the Afghan youth and children of today. We need to establish modern medical facilities to ensure healthy births; build new schools to deliver essential education; and develop modern world-class industries that provide job opportunities as well as sophisticated communications infrastructure to enable Afghans to engage the networked world.
My goal has been to contribute as much as possible in each of these three areas, and I've been grateful for the thousands of Afghan employees and partners who have joined me in this mission. I am especially proud of the achievements of the Bayat Foundation which, among other accomplishments, has built 13 hospitals that have served more than 1.5 million Afghan mothers and children. I look forward to continuing these efforts and contributions in the years ahead to help all Afghans to grow and support our country's progress in regaining its rightful place as a vibrant economic, cultural, and political leader in Central Asia."
Ehsan Bayat is the recipient of numerous awards and commendations for his business and philanthropic contributions, including:
2016: New Jersey Institute of Technology NJIT Alumni Achievement Award
2014: Chosen as Radio Azadi's Nowruz Man of the Year in recognition of exceptional individual contributions to Peace, Democracy and Culture in Afghanistan
2012: Honorary Degree of Doctor of Humane Letters for his works in Afghanistan
2011: Excellence for his commitment to Afghanistan presented by 4,000 AWCC employees
2010: Mahatma Gandhi Humanitarian Award
2008: Man of the Year Award
2008: Corporate Social Responsibility Award from the Canada-Afghanistan Business Council
2007: Man of the Year Award from Sitara magazine
2007: First recipient of the Businessman of the Year Award by AACC
2007: Humanitarian of the Year award from Zeba Magazine
2006: National Human Rights Award awarded by the Afghanistan Human Rights Association through President Hamid Karzai
About Afghan Wireless
Founded by Ehsanollah Bayat, Afghan Wireless (AWCC), serves over 5,000,000 subscribers throughout Afghanistan. Employing over 6,000 people directly and another 100,000 indirectly, Afghan Wireless is one of the largest employers in all of Afghanistan, and is a leader in delivering wireless and broadband communication solutions to residential and business customers. Additional information is available at www.afghan-wireless.com
About the Bayat Foundation
Since 2005, the US-based Bayat Foundation, a 501 c(3) charitable organization, has promoted the well-being of the Afghan people. Founded and directed by Ehsan Bayat and Fatema Bayat, the Foundation has contributed to more than 300 projects dedicated to improving the quality of life for the youth, women, poor, and elderly of Afghanistan. Projects have included the construction of new facilities and sustainable infrastructure in needy regions, and the promotion of health, education, economic, and cultural programs. The Foundation's 13 maternal and early childhood health focused hospitals have treated more than 1.5 million Afghan mothers and children. Additional information is available from www.bayatfoundation.org and via email: info@bayatfoundation.org
About Ariana Television and Radio Network
Founded by Mr. Ehsanollah Bayat in 2005, Ariana Television and Radio (ATN) are the largest private media channels in Afghanistan, covering 33 of 34 provinces and reaching over 25,000,000 Afghans. ATN is also available via satellite to Dari and Pashto speaking viewers in Europe, Scandinavia, Asia, Australia, and North America. Focusing on information, content and entertainment, ATN programming places particular emphasis on education, health, children's programming, women's and world issues, and the ATN team takes great pride in broadcasting accurate, unbiased news to the audience as events occur.
ATN's goal since launch has been one of inclusion and education, providing a "Window for a Better Tomorrow". While exposing our radio and television audiences to the best of international arts & culture from around the world, we also expand opportunities for local writers, producers, actors, and directors within Afghan communities. Programs can be accessed via the ATN website, www.arianatelevision.com or via the HotBird and GlobeCast satellites.